Supplies inks and chemicals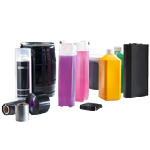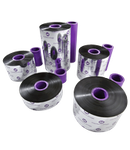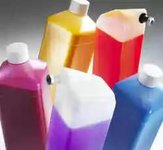 TTR Ribbons.
The Markem-Imaje Thermal Transfer Ribbon (TTR) range includes:
Ribbons suitable for near edge or flat head printers.
Ribbons which comply with FDA, LfgB and RoHS requirements.
Wax/resin and resin ribbons to print on a variety of flexible packaging.
Ribbons for a wide range of print and apply label media.
Light and water resistant ribbons for environmentally sensitive applications.
Inks and Chemicals Markem-Imaje
Markem-Imaje offers a comprehensive range of consumables to meet your every printing need. Decades of experience formulating, manufacturing and selling inks ensures that you get the highest quality inks available in the market and optimal performance with our printers.
Certified as a Sony Green Partner Supplier.
RoHS compliant.
All production sites comply with local regulations, industry standards and best practices.
Proactive monitoring and management of changes to environmental and regulatory issues.
All Markem-Imaje solvents passed the state registration and match the "Common sanitary-epidemiological and hygienic requirements for goods, is subject to sanitary and epidemiological inspection" of the Republic of Belarus, the Republic of Kazakhstan and the Russian Federation (from 28.05.201 No. 299).
CIJ inks
The Markem-Imaje CIJ ink range available for gain in RF includes:
Washable inks for returnable bottles.
Water-based inks for food applications.
Anti-diversion inks.
Pigmented inks for high contrast applications.
Fade-resistant inks for vulcanization applications.
DOD Inks
The Markem-Imaje DOD ink range includes:
Water-based inks for standard cardboard boxes.
Propanol-based inks for coated boxes.
Ethyl-acetate based inks for non-porous materials.
Ethanol based inks for wood.
Brown food-grade ink for carcasses.
Black water-based pigmented ink for concrete.
Hot Melt Inks
The Markem-Imaje Jet ink range includes:
Solid inks at room temperature and instantly dry after printing.
Flexible film inks for high speed flow wrapping applications.
Variety of inks to product sharp barcodes on cardboard cases.
Inks developed with FDA approved ingredients for printing directly on food.
Temperature specific inks to print in and for cold temperature applications.
The Markem-Imaje Roll ink range includes:
Solid inks at room temperature and instantly dry after printing.
Ink rolls for a wide range of flexible film types.
Solvent resistant ink rolls.
Low temperature inks for printing on shrink wrap.
Heat resistant ink rolls.